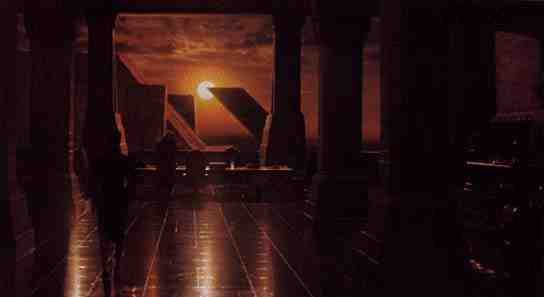 ---

8 November 1999
I've added some unix-like tools to my server @home, one of them
is a .plan port.... I'll use it for announcements of the stuff i'm busy with.
---

5 November 1999
Q3Test Sucks !
While waiting for the release of both Q3 and UT some demo's
have been released. My personal opinion is that Q3 is going to
rock the scene with little efford, but the demo looks like dinky-toys
scattered on a field, with some cartoony characters running around.....

Thumbs up for the UT demo though.... They have managed to
create a realistic FPS !

B.t.w.: You might see me on-line playing under the
nickname "Ataryan" for quite some time now....

---

The Month of Oktober
INTERNET
For me, oktober and the previous month stood in the sign of cable internet access.
I've launched both Q3 and UT servers @home :) And I must say, i'm
inpressed with the bandwith, compared to a telephone line, this cable
connection is maxed out at 250 kbytes per sec. (!!)

I've also opened up some sort of info page.

---
11 July 1999
What I've been doing
Well, since i'm an IT sort of guy in the real world, Y2K got me busy,
and I've accepted another job that gives me a more hands-on experience of what i'm doin'.
Change of moods, change of season, I don't know :)

---
10 July 1999
Yep, I've been busy lately....
So, after 4 months of non-dedication to this site the time has
come for some major upgrading. Upgrading I say, as I and others are
happy with the current black-and-white techy lay-out so i've decided
that i'm going to keep it.

---
11 February 1999
Happy new Year :)
As you might know when you visited my 'old' geo-pages,
this year there's going to be be a massive eclipse on the 11th August of this year.
Today i've done some updates on the page's of this site.
Kaitain/Emulation came first, it now contains links and info on Q3, PCTV..
More to come...

---
11 December 1998
Uhm : you can reach this site also @ surf.to/twobombs
---

18 November 1998
"Moving along..... Not only did I move in the natural...."
Also in Xyber$pace I went along zapping my way.
I changed my ICQ-nr, and also relocated these pages!
A special thanks go out to Antti Junkanni, that added me to the "Junkki"-clan!

---

15 Oktober 1998
'The day of the broken counter is over'-
Due to a N$4 Edit-'Feature', The Nedstat-counter stopped
functioning ever since the Quake III - Arena update.
For one week I was amased that only 'Interstroom'-people l00ked at my site! 8)

It is fixed now

---

7 Oktober 1998
Unique, as far as I know, is the On-Line version of the BC3K V2.0 Manual !
Take a quick look at it on the Galcom-Page, in the Hosting-area.

---

11 September 1998
I've made a special Quake section, just click on the Gunner at the main-page.

---

2 september 1998
This is the start of a periodical update on this page concerning thissite
The site now has grown to 20 Mbyte of on-line information, and is a
follow-up to the geocities-page

As you might have noticed i'm the proud owner of a Stealth II S220,
if you have wrappers or other 'special'-drivers that might be interesting
for other users/cards as well, don't hesitate to send me mail.

---
Some small-bandwith movies and sounds:
Zoomride(33k6) [Fractal REAL-Movie]
PlanetaryApproach(mpg) [NASA MPG-Movie]
Voyager22k(33k6) [MP3-WAV sound]

---